Aktuelles
Klavierkonzert Susana Gómez Vázquez
---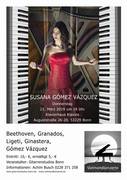 Susana Gómez Vázquez (Jahrgang 1995) absolviert aktuell den Masterstudiengang Klavier an der Musikhochschule Köln. Von 2013 bis 2017 studierte sie an der Royal Academy Of Music in London Klavier und Komposition mit dem Abschluss "Bachelors of Music with First Class Honours in piano performance". 2017 bis 2018 studierte sie am Conservatori del Liceu de Barcelona, Abschluss Master of Music Performance.
Konzertreisen führten sie durch Spanien, England, Italien, Frankreich und Deutschland.
Im Laufe der Jahre gewann sie etliche Preise sowohl für ihr Können auf dem Klavier als auch für ihre Kompositionen. Von 2012 bis 2017 unterrichtete sie privat und an verschiedenen Musikschulen in London und am Conservatorio de Música de Peñacorada, León. Zur Zeit unterrichtet sie an der privaten Musikschule "Gitarrenstudios Bonn".
https://www.susanagomezvazquez.com/Biografia.aspx
Susana Gómez Vázquez won first prize in different competitions including the 86th Competition of Jeunesses Musicales of Spain 2016, the International Piano Competition "Ciutat Carlet" (including prize for the best performace of Spanish music), the Royal Academy of Music Iris Dyer Piano Competition and the Madrid junior and senior Intercentros Hazen Piano Competitions. During her time at Purcell School she won the Freddy Morgan Competition, the Wigmore Competition (both solo and chamber) and was honoured to be awarded both the Senior Piano Prize as well as the Senior Composition Prize. She won second prize in the Cavatina Intercollegiate Chamber Music competition and the Isaacs and Pirani Piano Trio Prize. She was also awarded the Maud Hornsby Award and the Franz Reizenstein Prize at the Royal Academy of Music and was a laurate of the XXII Ibiza International Piano Competition. She has been selected by "Fundación Piumosso" to the take part in the concert series "El primer Auditorio" in the National Auditorium of Spain in 2018 and recently she was selected by EMCY to participate in the Young Hearts for Music Tour and to be featured in their website.
In the area of composition, Susana's pieces have been performed at the Wigmore hall, Royal Academy of Music, Amaryllis Fleming Concert Hall, Purcell school and other places all around England by professional musicians and orchestras such as the Milton Keynes orchestra and the Aurora orchestra. She won the first prize in the North London Festival of Music and Drama Senior Composition Competition and was Highly Commended in BBC Proms Inspire Young Composers Competition (junior category), resulting in broadcasts on BBC Radio 3 . She was awarded the first prize in Purcell School composition competition and her orchestral work was performed in Queen Elisabeth Hall. Recently, her composition "Ella" has been published by the international music magazin Quodlibet (no.66).
Link zu einigen Hörbeispielen: https://www.susanagomezvazquez.com/Grabaciones.aspx
Donnerstag 21.3.2019 um 19 Uhr
Klavierhaus Klavins
Auguststr 26 in 53229 Bonn
Programm: Änderung! die angekündigte Beethovensonate wird ersetzt durch die von Franz Schubert.
Franz Schubert (1797-1828)____Sonate Es-Dur Nr. 8, op 122 / D568
1. Allegro moderato
2. Andante molto
3. Menuetto (allegretto) - Trio
4. Allegro moderato
György Ligeti (1923-2006)____Etude Nr. 10. "Zauberlehrling"

Enrique Granados (1867-1916)____aus dem Klavierzyklus "Goyescas"
Allegro de concierto
Quejas o la Maja y el Ruiseñor
El Pelele
Susana Gómez Vázquez (1995)____Ella

Alberto Ginastera (1916-1983)____Sonata Nr. 1, op.22
1. Allegro Marcato
2. Presto misterioso
3. Adagio molto appassionato
4. Ruvido ed ostinato
---